Marine Corps Women Reserves Training Camp Lejeune
FREE A MARINE TO FIGHT: Women Marines in World War II


by Colonel Mary V Stremlow, USMCR (Ret)
---
Planners originally thought to use existing Navy resources and facilities for all MCWR recruiting and training, but Marines soon saw the advantage of having their own schools. It wasn't only that Mount Holyoke and Hunter Colleges were overcrowded and stretched beyond reasonable limits by the number of women arriving every week. There was a larger motive for moving MCWR schools to Camp Lejeune and, simply, it was the famed Marine esprit de corps.Camp Lejeune, where thousands of Marines were preparing for deployment overseas was the largest Marine training base on the East Coast and offered sobering opportunities for the women to observe field exercises and weapons demonstrations, and to see the faces of the young men they would free to fight.
Major Hurst, commanding officer of the Marine Detachment at Mount Holyoke, understood almost immediately the drawbacks of trying to indoctrinate and train Marines in such patently civilian surroundings as a college campus. Less than a month after training began he wrote Brigadier General Waller:
In drawing these up [training schedules], I found myself wishing more and more that we could include some weapons instructions, at least pistol, for our women . . . . I have found that the women come into the Marine Corps expecting to learn to shoot and I, of course, would like to see them become the first women's reserve in the country to take up the specialty of their men if Headquarters considers the idea at all feasible. I wouldn't have had the nerve to suggest it if Mrs. Franklin D. Roosevelt hadn't asked me on her visit last week how soon they were going to learn to shoot. She expressed surprise at learning that the women of the U.S. were not learning as much about weapons as the women of other countries . . . .
Nearly a half century later, the retired 23d Commandant of the Marine Corps, General Wallace M. Greene, Jr., expressed a like sentiment when he wrote in 1990:
I commenced to realize the meaning of sexism in the armed forces while I was a Marine Corps observer with the British army during the Battle for Britain. During a night bombing raid against London, I watched the women gunners in an antiaircraft battery battle the incoming German planes. I suddenly asked myself, "Why aren't our women — able, loyal, and patriotic as they are — permitted to participate in this fashion?"
The Marine Corps Women's Reserve Schools — officer candidate and boot training along with certain specialist schools — opened in July 1943 under the command of Colonel John M. Arthur. Officer candidates and recruits in training at Mount Holyoke and Hunter Colleges were transferred to Camp Lejeune, New River, North Carolina, where nearly 19,000 women became Marines during World War II.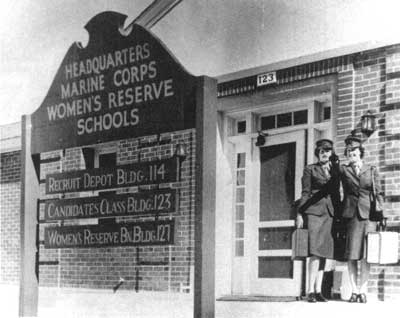 The headquarters of the Women's Reserve Schools at Camp Lejeune supervised the recruit training of more than 18,000 women during the course of World War II.
Photo courtesy of Mary R. Rich